In Australia, we have companies for everything under the sun. There are firms here for internet marketing, web hosting and capital market investments. We also have great outfits to help you design clothes for both sexes. The Australian government offers an enabling environment for startups and investors who can think outside the box. Below are some innovative startups in Australia and the wonderful things they are doing.
10 Australian Startups to Draw Inspiration From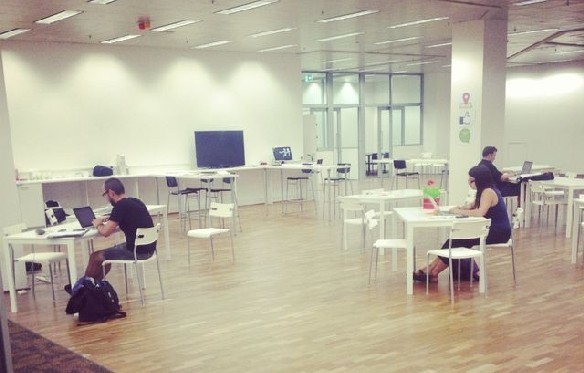 Spacecubed
The above is an early photo of Spacecubed, which has recently hit its 6th Birthday. I remember before the photo above we were sitting on milk crates for Morning Startup with Isaak Dury. Spacecubed is powering on in 2018 with new floors open and new members moving in, Spacecubed is home for many events in. Spacecubed was recently listed in the Financial Times high growth Companies in Asia-Pacific. Spacecubed is considered by many to be the heart of the tech startup community in Perth.
Spacer
This firm was founded by Mike Rosenbaum and Tom Roland. It was launched in 2015 and it has continued to grow from strength to strength. This firm makes good use of space and provides an opportunity for anybody to rent space. This firm encourages consumers to put up rooms, driveways, shed or cupboard for rent. This firm is doing very well in Australia and has formed alliances with companies in Europe and Asia.
InStitchu
The founders of InStitchu are James Wakefield Robin McGown. Both men have a sound background in the financial services industry but they walked away from the world of finance to the challenging and exciting world of fashion. InStitchu is an online store that sells tailored suits. This firm is already a $10 million Australian success and has showrooms in Melbourne, Sydney, and Brisbane. Encouraged by its success in the local market, this firm is planning to enter the American market soon. As an early user of InStitchu, I enjoyed their custom shirts and high-quality manufacturing.
Fiftysix
This company was started by a seventeen-year-old entrepreneur. Fiftysix is a great firm because it targets young people. The aim of this firm is to help young people learn about computer science in an enjoyable way. This firm has achieved some success in Australia and Nepal already. Fiftysix is committed to educating at least a million children by the year 2020.
Simply Wall Street
This company started it's journey as an idea that the Founder and CEO Al Bently called NinjaVest and pitched at a startup weekend. Originally it was just a fun idea that didn't go anywhere. But Al determinedly returned to his startup and in 2017 the platform grew from 25000 to roughly 100000 users and it closed a round of circa $2.4M from its investors. Originally formed in Perth, and now based largely on the east coast, Simply Wall St provides a series of robust automated financial advisory services aimed at helping investors grow their wealth.
Student Edge
Started by Craig, Jeremy and Damien, this startup aimed at helping students have better lives by finding ways to save money and manage finances, find a job and generally help with better life choices. The founders of student edge have not only done great things for the student community, but also for the startup community with their great product. If you're a student and haven't checked out student edge you're missing out. Check it out now!
Canva
No startup list would be complete without adding Canva. Canva is a great startup because it has achieved a lot within a relatively short time. Mel wrote a great account of this, including her interactions with the legendary Bill Tai here This software firm has users in 179 countries and recently launched its platform in six languages. Melanie Perkins started this business in Western Australia but the firm is now an international powerhouse.
Health Engine
Started by Dr. Marcus Tan and Adam Yap, health engine allows patients to find, book and manage their healthcare quickly and conveniently. Health Engine is backed by the likes of Seven West Media and Telstra Ventures and have recently closed a huge round which included Sequoia capital among others. Marcus and Adam have been great supporters of the startup community by being actively involved in startup weekends and other activities at Spacecubed. If you want to make booking your next health appointment easier get on to health engine now.
Kindom
Kindom is a new digital healthcare application that allows parents to record information about their family (their Kindom) and share that information in a secure way with healthcare professionals. Kindom is the brainchild of two amazing female founder Cath Resnick and Gry Stene. Professional Web Solutions helped Kindom develop their product through the two successful funding rounds that they have achieved.
Power Ledger
Using the blockchain as a basis for power trading, this startup has taken a different twist to make most of the utility (no pun intended) of the blockchain. They have developed a system which allows for peer to peer trading of electricity, without the need for third party mediation. With the most cost-effective source of energy in the future likely to be renewable energy, we'll be keenly watching this startup.
One thing all these Australian Startup's have in common is that they have very compelling websites with powerful messaging combined with innovative solutions. If you are looking to start your own startup then you will need to consider your online branding and web presence.
Professional Web Solutions has helped Australian startup's get started online, we understand the value of lean startup methodologies, we deliver on innovation and we build scalable solutions. Our Perth web design and mobile app services will help establish and ensure the future of your web presence, its sustainability and how it will remain relevant with the constant advancements in technology. We'd love to discuss how we can help. Talk to us today.